Product Overview
180 degree Glass to Glass Regular Weight Hinge - Bev - cp
Solid Forged Brass Body

Stainless Steel 304 Pin

Spring Steel Springs

3 year warranty

Wear Tested over 30,000 Hours

Finish Salt spray tested for 48 hours
Industry Standard Cut Out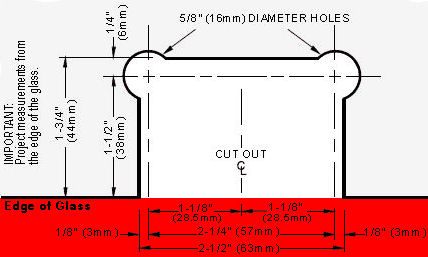 Maintenance
• Our hinges are greased at the factory for quiet and trouble-free operation. If there is any squeaking thatoccurs after installation, put a drop of "3 in 1 Oil" (also known as "household oil") on the white nylon washer that the hinge body pivots on. This washer is the component that acts as a buffer, so the body of the hinge
doesn't pivot directly on the brass center block. This solution doesn't require the disassembly of the hinge.
Note: Do not use spray lubricant on these hinges. If the hinge has been disassembled, upon re-assembly, use white lithium grease to lubricate the interior mechanism.
• Never use an abrasive cleaner on the hardware. Many of the components are coated with a clear lacquer that will be irreparably damaged if subjected to harsh, abrasive chemicals. Advise your customer that drying the hardware with a clean, soft towel on a daily basis is the best way to maintain the hardware.
If mineral deposits build-up, mix a couple of drops of a mild liquid soap (such as Ivory or a similar product) into a cup of warm water. Using a soft, non-abrasive cloth, clean the hardware. Rinse thoroughly with clean, warm water and dry.
Warranty Information
Product is warranted against manufacturer's defect for a period of three years from date of purchase.